New Poster Features Lackawaxen River Inhabitants
River-inspired Art Supports Trail Development Efforts
July 5, 2022 – Artwork featuring birds, frogs, insects, a turtle, riparian vegetation and more is now available to adorn your wall at home, office or place of business to support Lackawaxen River Trails. The new poster is designed by  Honesdale-based artist Jeff George who is widely known for his mural work, sculptures and especially his significant involvement in the effort to develop a system of trails through the Lackawaxen River Corridor.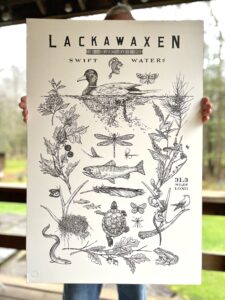 Posters are available for a donation of $30 to the Wayne County Community Foundation on behalf of Lackawaxen River Trails. Follow the link and use the designated button to claim your very own, limited "Lackawaxen River – Swift Waters" poster.  If you would like a poster shipped, we ask you to please cover the cost.
Donations for this poster will benefit the Lackawaxen River Trails, a partnership between volunteers and municipalities to build a multi-use trail system on land, rail, and river. The river access site in Hawley will be joined by three additional sites — in Honesdale, Indian Orchard, and White Mills — funded by local donations and state grants. Construction will begin in fall of 2022 and continue into 2023. Future plans will include walk/bike trails. For more information, sign up for our email updates.
About the Artist
Since 1996, Jeff George Design has been working with people who have or desire unique concepts. Work at the studio encompasses projects based in design, illustration, sculpture and art direction.