Get Ready to Get Going in 2023
Happy New Year, Trail Fans!
An update on where we have been, where we are, and where we are going.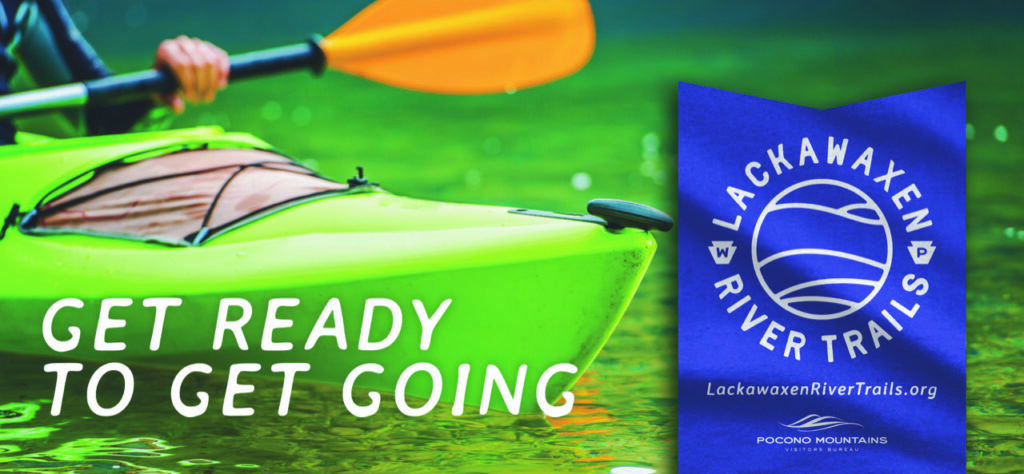 January 4, 2023 – We hope you have noticed our billboards scattered around Wayne and Pike counties. The message applies to both projects and people.
First, we are really ready to get going on construction in the new year! A lot of work has been done in 2022, quiet but necessary work… environmental studies, permitting, approvals, and more.
Construction at the White Mills river access site can begin as soon as permitting and weather allow. Construction at Industrial Point depends on removal of the two EMS buildings first. In addition to Honesdale and White Mills river sites, the PA Fish & Boat Commission awarded a grant to build a river access site in Indian Orchard. The stretch from Indian Orchard to White Mills offers a short paddle for beginners to learn on and for anyone who might like a quick escape on the water. (more)
2022 was also a year of recognition
In May, folks from the Department of Conservation and Natural Resources (DCNR), the Department of Community and Economic Development (DCED), and the PA Fish and Boat Commission traveled to Honesdale to celebrate the state's investments of roughly $1,000,000 for our river trail. Instead of shovels breaking ground those attending signed golden paddles! (more)
In September, the Lackawaxen River Trails received the Heritage Tourism Award from the Route 6 Alliance for our efforts to build trail systems through the Heritage Communities of Honesdale, White Mills, and Hawley using the river, railroad and Route 6 corridor. Then in November, the PA Environmental Council presented an Environmental Partnership Award to Lackawaxen River Trails for its ability to connect entities and individuals including the county, boroughs, townships, foundations, nonprofits, companies, and others in the efforts to study, plan, fundraise, and build a multi-modal trail system. (more)
2023 will take us from river to land
We received a grant from DCED through its Greenways, Trails, and Recreation program to build the Gorge Trail in Palmyra (Pike) Township. The Gorge Trail will fill a one-mile gap between existing trails to create a 16-mile trail from the Wayne County Historical Society's Lock 31 to the Lake Wallenpaupack Dike. We have also begun the planning needed to apply for a grant to build a walking trail in Honesdale from 4th Street to Brown Street. This will be one leg in the big picture to create hike-bike pathways from Honesdale to Hawley.
As more connections are made and grants are applied for, additional matching dollars are required for each grant to show community support. We will continue to raise funds in the community to build grassroots support and also appreciate supporters like you who help to make this dream a reality much quicker.
All gifts received by mid-April will go toward the 4th to Brown Street walking trail. Give online and specify Wayne Pike Trails and Waterways Alliance in the box "Apply my donation to…" or you can mail a check payable to Wayne County Community Foundation, 214 9th Street, Honesdale, and indicate Trails Alliance in the memo.
With many thanks!
Lackawaxen River Trails