Lackawaxen River Trails Receives Two Awards for 2022
Two Organizations Recognize Efforts, Success of Lackawaxen River Trails
October 5, 2022 – It is with great pride that the Lackawaxen River Trails accepts not one, but two awards for 2022 from organizations that support the region through heritage and environmental protection. In September, the PA Route 6 Alliance awarded the Lackawaxen River Trails with its Heritage Tourism Award of the Year.
The Heritage Tourism Award is presented to the organizers of a project that furthers economic and tourism development while still respecting the heritage and cultural resources of the corridor.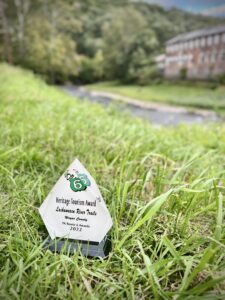 Lackawaxen River Trails is also one of the recipients of the Environmental Partnership Award from the Pennsylvania Environmental Council (PEC) for 2022. PEC will hold its award dinner November 3rd when the award will be given out.
From the PEC award program: Lackawaxen River Trails which began as a loosely formed group of residents, has become a trail powerhouse in Wayne County due to the partnerships they have formed over just 18 months. Lackawaxen River Trails has partnered with the County Commissioners, Wayne County Community Foundation, PA DCNR, PA FBC, Wayne County municipalities, Trout Unlimited, local business owners, and many more to secure funding, raise awareness, develop river access, create interpretive signage, and keep trail projects moving forward.
Wayne Memorial Hospital and Pocono Mountains Visitors Bureau have also provided significant support to the ongoing efforts.
Thanks to everyone who has rowed in the same direction gaining momentum toward progress along the Lackawaxen River!!! Watch for more announcements of developments at the river accesses soon!
MORE NEWS
---

Lackawaxen River Trails is also proud to announce funding in the amount of $144,911 for the Gorge Trail connecting trails in downtown Hawley to the Wallenpaupack Creek Trail and Lake Trail. Funding comes from the PA Department of Community and Economic Development and the Greenways, Trails and Recreation Program. Our thanks to our local lawmakers and Palmyra Township, Pike County which supported these efforts!
---
A recent study has found the economic impact of the Pocono region's protected streams at nearly $3 billion in benefits for local businesses, property owners and communities. The Our Pocono Waters report looks at the relationship between the region's high concentration of "Special Protection Streams" and various economic, social and ecological indicators.What's more is the study drilled down on the impacts to each county and ecological services were found to bring nearly $480 million to Wayne County and nearly $330 million to Pike County.