Introducing: White Mills River Access Park
White Mills River Access Park is Here!
Large crowd of supporters & dignitaries on hand for ribbon cutting celebration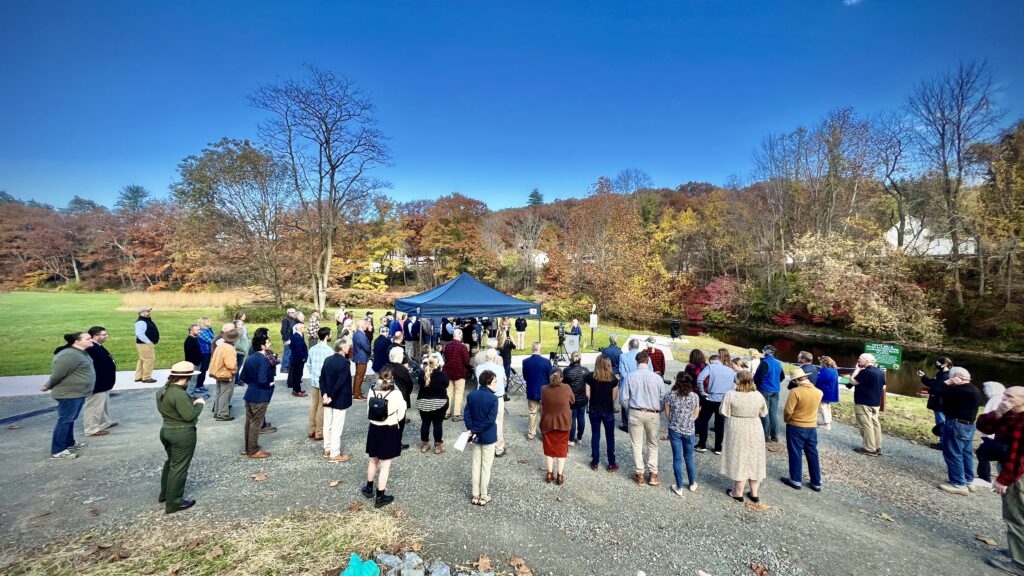 October 27, 2023 – On a warm, sunny late-October morning, dozens of state and local trailblazers helped cut the ribbon on White Mills River Access Park. The new river access including a concrete precast boat ramp, ADA parking, bathroom, benches and more is the culmination of years of fundraising, grant writing, design and construction at the site in Texas Township between Honesdale and Hawley.
It is the first accessible public access for individuals with disabilities on the Lackawaxen River. Joining in the celebration were Pennsylvania Fish and Boat Commission (PFBC) Executive Director Tim Schaeffer and Commission Chair William Gibney, Department of Conservation and Natural Resources (DCNR) Secretary Cindy Adams Dunn, Wayne County Commissioners Smith and Cramer, State Representatives Fritz and Adams, State Senators Baker and Brown, members of the Lackawaxen River Trails group, Woodland Design Associates, members of the Schemitz family and numerous community partners.
The following is from a PA Fish & Boat Commission news release:
"When communities recognize the value of the natural resources in their own backyards, like the incredible Lackawaxen River Trail, and embrace fishing and boating access along these waterways, the benefits are undeniable," said Schaeffer.  "Thank you to the local residents who had the vision for this ribbon of projects.  Their pride in these recreational amenities will translate into greater resource stewardship and enhanced access to the water that will make the Lackawaxen truly relevant to the region."

"Congratulations to everyone who has been a part of bringing this river trail to reality," Dunn said. "The Lackawaxen River has been an economic backbone over two centuries, from early logging through the building of the canal and transporting coal.  Now, this river trail will connect people to nature, recreational opportunities, communities, history, businesses, and so much more."

Funding for the White Mills River Access Park project was provided to Wayne County through the PFBC's Boating Facility Grant Program ($120,290) in partnership with the U.S. Fish and Wildlife Service and National Fish and Wildlife Foundation, DCNR's Community Conservation Partnerships Program ($158,000), and local fundraising ($37,000).

"We received DCNR support to fund a trail feasibility study which was released in 2020," said Wayne County Commissioner Brian Smith. "Not only did the study show that river and land trails are feasible, but the public survey found 93% of respondents supported the multi-purpose river trail concept.  Our residents, visitors, and businesses are excited to see this come to fruition."

In addition to White Mills, PFBC and DCNR funding will contribute to two other new access areas along the Lackawaxen River Trail in Honesdale and Indian Orchard.  A fourth river access site is already open in Hawley.
---
Lackawaxen River Trails is thrilled to reach this milestone in the development of the trails system connecting Honesdale with White Mills, White Mills with Hawley, and eventually Hawley with Lackawaxen! Please use the river access in White Mills safely, responsibly and support our efforts to continue building connections to our shared resource, the Lackawaxen River!